An Open Letter in Solidarity with Prisoners at the Saskatoon Correctional Centre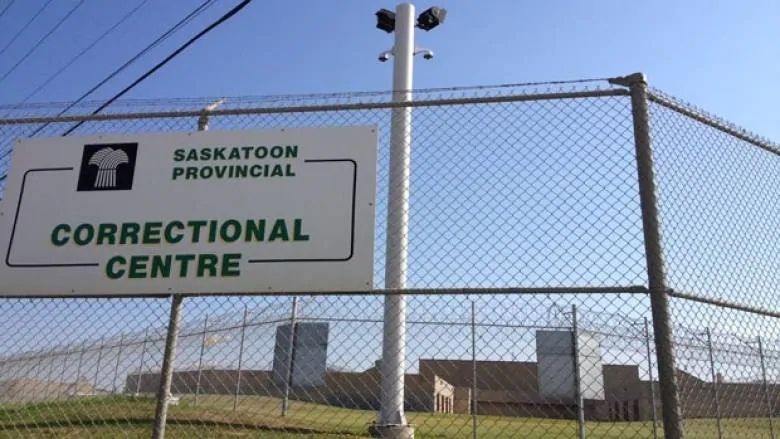 We are a collective of community members, prisoner advocates, and penal abolitionists who stand in solidarity with prisoners at the Saskatoon Correctional Centre (SCC), where 130 people (107 prisoners; 23 staff) or roughly 20% of the population have tested positive for COVID-19 as of November 30, 2020. We are appalled by this number and by the lack of action taken thus far to address or remedy this crisis. We call for immediate action to address the COVID crisis at SCC, and to prevent a similarly dangerous spread at other institutions in the province.
On November 11, prisoner justice advocate Cory Charles Cardinal first wrote on behalf of his fellow prisoners to the Saskatchewan Minister of Corrections, Public Safety and Policing, Christine Tell, to request transparency and accountability from the Government of Saskatchewan. He noted then that prisoners at SCC are living in over-crowded conditions, with double-bunking, shared bathroom and shower facilities, and inadequate access to cleaning products and PPE, even in so-called quarantine units. Clearly, this environment does not allow for the physical distancing recommended by the Saskatchewan Health Authority to prevent the spread of COVID-19.
After receiving no response from Minister Tell, Mr. Cardinal wrote again on November 24, drawing attention to the fact that many people in jail have pre-existing health conditions that make them especially vulnerable to COVID-19. He closed the letter by calling for early release of nonviolent prisoners, sentenced prisoners near release, immunocompromised prisoners, and prisoners over fifty. To date, Minister Tell has not responded. With a number of other prisoners, Mr. Cardinal is currently on the fourth day of a hunger strike to draw attention to the conditions at SCC and call for immediate action.
Importantly, the current health crisis at SCC underscores the fact that COVID-19 disproportionately impacts Indigenous and other racialized communities. While Indigenous people make up roughly 5% of the overall population in Canada, they make up approximately 30% of the federal prison population. In the Prairie Provinces, the situation is even worse, with numbers closer to 60% in federal prisons and up to 85% in provincial jails like the Saskatoon Correctional Centre. Let us be clear: the government's lack of action around COVID-19 in Saskatchewan jails specifically targets Indigenous peoples. It is Indigenous people who are getting sick; it is Indigenous people who are at risk of dying. This lack of action is a direct act of colonial violence.
In solidarity with prisoners at the Saskatoon Correctional Centre, we call for:
1.     Immediate release of all prisoners possible, including but not limited to those on remand, those who are sentenced but near release, those who are immunocompromised, and those over fifty. At minimum, numbers should be reduced so that those who remain in jail are able to follow the health and safety protocols of Saskatchewan Health Authority.
2.     The provision of adequate financial and other transitional supports to ensure that prisoners who are released are provided with the resources necessary for their health and safety. In addition to adequate funding for existing supports, we call for the creation of post-release transitional supports that are not administered, surveilled, or controlled by criminal justice agents.
3.     The provision of adequate cleaning supplies and PPE, including but not limited to masks, hand sanitizer, soap, mouth wash, etc. for those who remain in jail.
4.     A public apology from the Government of Saskatchewan to prisoners and staff of the SCC for failing to prepare and respond appropriately to prevent the spread of COVID in Saskatchewan jails.
We urge members of the public to contact the Minister of Corrections, Public Safety and Policing Christine Tell to express their concerns and pressure the Government of Saskatchewan to respond immediately to the crisis. Minister Tell can be reached at minister.cp@gov.sk.ca and 306-787-0284
To add your name or the name of your organization, email statementsolidarity@gmail.com
In solidarity,
Inmates 4 Humane Conditions
Saskatchewan-Manitoba-Alberta Abolition Coalition
Free Lands Free Peoples
Indigenous Joint Action Coalition
Beyond Prison Walls Canada
Criminalization and Punishment Education Project
Jail Accountability & Information Line
Journal of Prisoners on Prisons
No More Silence
Toronto Prisoners' Rights Project
SURJ (Showing Up for Racial Justice) YXE
Anti-Carceral Group
Wellness Within: An Organization for Health and Justice
The Centre for Access to Information and Justice (CAIJ)
Vancouver Prison Justice Day Committee
Prisoner Correspondence Project
Prison Abolition Prisoner Support (PAPS)
Abolition Convergence Toronto
Department of Indigenous Studies, University of Saskatchewan
Justice Exchange
Abolition Network
Regina Public Interest Research Group (RPIRG)
S.T.A.N.D. for Prison Justice, UBC
Shades of Colour (SOC), Edmonton
UR Pride Centre for Sexuality and Gender Diversity, Regina SK
Artists for Climate & Migrant Justice and Indigenous Sovereignty
CLASSIC Law
VOLTA Collective
Education Not Incarceration Toronto (ENI)
Idle No More
Winnipeg Police Cause Harm
Sustainable Concordia
Karrie Auger
Erica Lee
Danielle Bird
Molly Swain
Nancy Van Styvendale, Associate Professor, U of Alberta
I. Abdillahi
Peter Turner
Linda Mussell
Mark Mullkoff, MSW, RSW, Abolition Convergence
Hadley Howes, P4W Memorial Collective
Betty Ann Adam
Sara Birrell
Craig Fortier, PhD, U of Waterloo
Brett Story
Robyn Maynard
Ian Liujia Tian (Ta), Ph.D. Candidate, U of Toronto
Julian Rioux
Jillian Rogin, Assistant Professor, U of Windsor
Sheena Hoszko
Dr. Uahikea Maile, Assistant Professor, U of Toronto
Trevor Goodyear, RN, MSN, MPH
Rachel Fayter, MA Community Psychology, PhD Student, U of Ottawa
Alex Da Costa, Associate Professor, U of Alberta
Adrienne Carey Hurley
Kendra Cowley
Laura Aguiar
Dr Jessica Evans, Assistant Professor, Ryerson
Cerah Dubé, MA student, University of Saskatchewan
Maxwell Folk, BA, University of Saskatchewan
Jessica Warren
Priscilla Settee, Professor, Indigenous Studies, U of Saskatchewan
Shama Rangwala, Assistant Professor, York University
Mike Gouldhawke
Kim Cahill
Nancy Poon
Tasha Hubbard, Associate Professor, U of Alberta
Zahir Kolia, Assistant Professor, Ryerson University
Dr. Justin Piché, Associate Professor, Criminology, University of Ottawa
Aloys Fleischmann
Brandie Carignan
Christine Stewart, Associate Professor, University of Alberta
Shiri Pasternak
Sue Goldstein
Keighlagh Donovan
Ashley Cardinal
William Van Arragon, Associate Professor of History, Dean of Arts, King's U
Morgan Tunzelmann, Regina, SK
Lee Ryan
Dr. WJ Arnold, Saskatoon
Erin Waugh
Alexander Falcon
Virginia Grace Facecchia
Corenda Lee Steinhauer
Omeasoo Wahpasiw, Assistant Professor, U of Prince Edward Island
Franki Harrogate, Registered Provisional Psychologist
Lisa Osler
Patricia Cameron
Julie Kaye, Sociology, USask
Alicia Clifford, PhD Student, McMaster University
Sherri Maier
Beverly Fullerton
Vicki Chartrand, Associate Professor, Bishop's University
Lauren Thompson
Adam Pottle
Joanne DiNova, Associate Professor, Ryerson University
April ChiefCalf, Saskatoon
Cindy Hanson, PhD
Mika Lafond
Sheelah McLean
Judy Cail
Sarah Warman Morton
Tonia Laird
Kelsey Timler, Research Manager & PhD Student, UBC
Wyatt Schiefelbein, PhD Student, U of Alberta
Ekaterini Barrios
Fred Norman
Lisa Vargo, Professor, University of Saskatchewan
Leah Hrycun
Dr. Lisa Guenther, Queen's National Scholar in Political Philosophy and Critical Prison Studies, Queen's University
Brynn Craffey
Fetsami Araya
Dr Andrea Redmond, Comeen, Doochary, Donegal Ireland
Caitlin Stickney
Deb Hopkins, Volunteer lawyer, CLASSIC
Kareem Ibrahim, J.D., UBC
Malachi Daw
Amanda Barlow
Rachel Lewis
James Sandaluk
Brandi Bowers
Raylene Whitford
Robbie Crosswhite
Keavy Martin, Associate Professor, University of Alberta
Kathleen James-Cavan, Associate Professor, University of Saskatchewan
Cynthia Wallace, Associate Professor, University of Saskatchewan
Sarah Nickel, Associate Professor, University of Alberta
Jessica McDonald, Postdoctoral Fellow, Simon Fraser University
Cindy Lopez
Debra Parkes, Professor and Chair in Feminist Legal Studies, UBC
Joanne Leow, Assistant Professor, USask
Scott Beaumont
Daniel Sarah Karasik
Malou Brouwer
Michelle Lee
Lynn Hutnick
Diana Da Silva, BA, MSW
Mattias Graham
Jason Demers, Assistant Professor, University of Regina
Kristie Pilling
Neil Balan
Nickita Longman
Alisha Sharma, P4W Memorial Collective
Gabrielle Ayles
Mike Wedekind
Cleo Nguyen
Leah Shoemaker, Early Childhood Professional
Liz Huntington
O. Naphtali
Paloma Hepler
Amy Engel
Courtney Hrynuik
Mairi Anderson
To add your name or the name of your organization, email statementsolidarity@gmail.com